It's a new series from the creator of "The Bachelor," arguably TV's hottest new reality show.
Debut: Executive producer Mike Fleiss (The Bachelor) helms this reality series about 17 former classmates who reunite in Hawaii. The group from Oak Park and River Forest High School in Illinois, class of '92, arrive in Maui to explore possible romances and resolve issues with their peers - all while living under one roof. Each week two random housemates receive a "Hall Pass," which allows them to ask one of the others to go on an exclusive date. In the opener, the gang moves into their new home, and Ben and Nicole each learn that they have a Hall Pass waiting for them. The pressure is on when they find out that they must choose their prospective dates that very night.
Unlike other shows in the genre that have to pump up the reality by forcing people to compete in manufactured scenarios for the big-money payoffs, the drama in the high school environment is a natural by-product of raging adolescent hormones. Romance, betrayal, excitement, envy: It's all there. The only question is how to harness it for mass consumption by TV audiences. Well, leave it to the creators of "The Bachelor" to come up with a guilty pleasure of a series that does the job quite nicely … Just when you think you're out of high school, they pull you back in.
… this surprisingly watchable celebration of high school archetypes might be the least offensive entry ever in an offensive genre. These people, after all, have some history together, which offers the thin hope that their reunion might actually help them put the past behind them and move on (though why anyone thinks TV is the best place to do so escapes me). As for us, we get to root for the nice kids and revel in how badly the mean kids have aged.
Per industry guidelines, the group includes one bartender and one aspiring actress. … The highlights of each episode are "hall passes," two of which are issued each show. The recipient of the pass gets to invite another classmate to some sort of romantic date, setting the stage for embarrassment, gossip, hurt feelings and humiliation - the four basic food groups of reality television. … Here and there, it's possible to make an emotional connection, but for the most part, this is a reunion that can't end soon enough.
9 p.m. Sunday. The WB. FASCIST TALKBACK WARNING: It's our understanding that Americans of high school age and younger, as a demographic, generally despise reality shows. We will stipulate to this. And while most reality show fans are bored with the kiddies' repeated cries of disdain, we encourage all those in high school, junior high and grade school to express this hatred in talkback, as these talkbacks are very easy and fun to delete. What won't be deleted here are talkbacks by anyone who watches reality shows or actually watches "High School Reunion" and would like to express an opinion.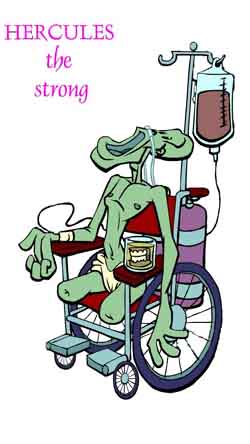 To order BBQ aprons, lunchboxes, bibs and clocks adorned with the image of a green, differently abled "Buffy" fanatic, click here.