Enterprise 2.10 FAQ
What's it called?
"Vanishing Point."
Who's responsible?
Teleplay is credited to Rick Berman and Brannon Braga ("Shockwave," "A Night in Sickbay").
"Hoshi is convinced her body's molecules are destabilizing after enduring a traumatic trip through the Enterprise transporter to escape a sudden storm on a primitive planet."
How many of the crew have been through the transporter now?
Including Trip and Hoshi's trip this week, five. "The captain has and Malcolm did it twice," recounts Trip. "They said there's nothing to it." Of course Trip forgets to mention the poor crewman who was fused to all the lawn waste.
Is it true Hoshi thinks the crew can't see her?
Yes.
Why isn't she certain?
Sometimes the crew acknowledges her presence, sometimes not. She seems to be winking in and out.
And nobody notices the winking?
There's a lot of that careful ambiguity one associates with "The Sixth Sense."
The big news?
Hoshi becomes permanently intangible and invisible halfway through the episode, a set of circumstances that will remind many of both "Ghost" and especially the "Next Generation" episode "The Next Phase" (the one in which Ro and LaForge thought they were dead). There's even an invisible menace with which Hoshi must contend.
What else is TV Guide not telling us?
Hoshi spends the latter half of the episode in a sleeveless purple belly shirt.
What's good?
Getting to spend the hour with the fabulous and highly watchable Linda Park, who's in every scene and always manages to bring a realistic vulnerability too rare to "Star Trek." The producers decided to hire only two female regulars this year, but they sure hired the right two. Also? The aliens this week sound just like Jabba the Hutt. And that belly shirt is as tight as it is skimpy.
What's not so good?
A lot of people are probably going to hate the ending, and the episode's resemblance to "The Next Phase."
How does it end, spoiler-boy?
It was only a dream! (Don't be surprised if you disappear if you reveal this in talkback.)
Herc's rating for "Enterprise" 2.10?
***
The Hercules T. Strong Rating System:
***** better than we deserve
**** better than most motion pictures
*** actually worth your valuable time
** as horrible as most stuff on TV
* makes you quietly pray for bulletins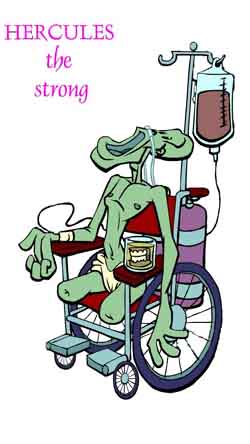 To order coffee mugs and boxer shorts adorned with the image of a green, handicapable "Buffy" fanatic, click here.