Hey folks, Harry here with the latest update from Quint from Comic Con... but that's not really true, cause he's back at Quint's Shack after a long sea voyage in the Orca. That bastage had a blasted bloody good time in Comic Con and this time he's talking with the director of that new Terminator flick and the pant pant drool drool Asia Argento from a zillion cooler films than XXX, but XXX will surely be cool too. So here ya go...
Ahoy squirts! Quint, the crustiest of all seaman, here finally back in Austin and playing catch up with some of my Comic Con coverage. It's a change of gears, definitely... Going from the hustle and bustle, always something cool going on, no rest for the wicked tempo of Comic Con to an almost abrupt halt, the shock of entering the real world again.
It's not bad. I'm actually glad to I'll be getting some sleep for a change... Well, eventually. My newly purchased Lord of the Rings and Wrath of Kahn DVDs look to be keeping me from the delicious slumber that I've been lacking for the last week. But enough of that happy horseshit. I got to sit down with ASIA ARGENTO, daughter of the Italian filmmaking God that is Dario Argento and hands down one of the cutest women I've ever had the pleasure to meet in my life.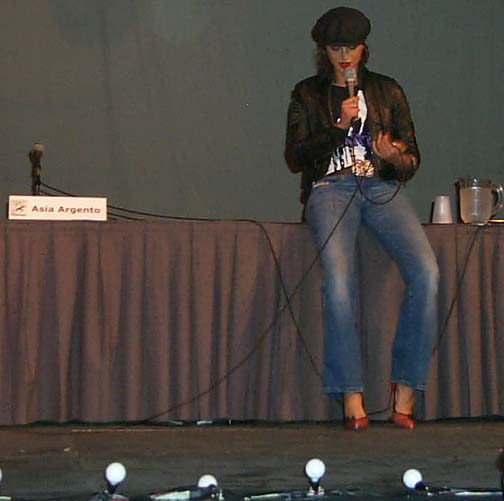 I only had a few minutes with her, so it's a short interview, but it's a bit of fun. I do have to warn you, though... There was this poser geek who was shadowing me throughout the whole of the Con. The worst part was, he was wearing these Butt-Numb-A-Thon T-shirts that were shipped out for the posers who couldn't handle the 24 hours of constant film. I have one of the original BNAT shirts and wear it all the time, so I know the difference. The problem was, he got my cell phone number off the site and kept calling, leaving weird messages. I think they were sexual in nature, but I couldn't tell... They were just... weird.
Anyway, this son of a bitch walked up just as I was starting my interview with Ms. Argento, interrupted us and asked for an autograph. She graciously gave him one. Then he asked for a picture, smiling at me when she agreed. He knew he was eating up my interview time and he looked like a pig in shit. To add insult to injury, when I got back to the hotel that night, I found an email from this asshole with the picture included. Here it is: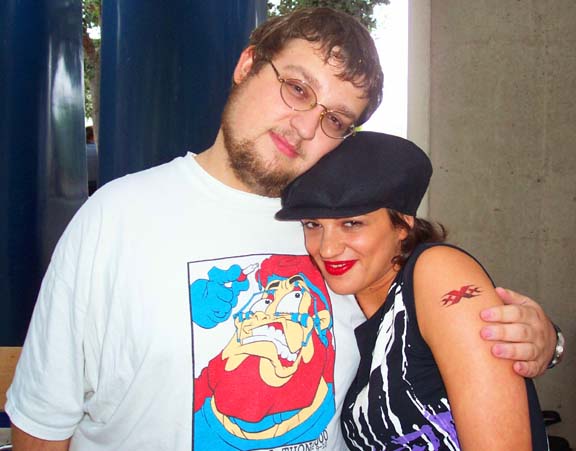 As you can see by the look in his face, that smirk, he's happier than a fly in a manure factory. He's one ugly SOB, isn't he? Do me a favor... If you see this guy around, smack him one for me, OK? Enough with this, let's get on to the good stuff. Here's the interview:
QUINT: I NOTICED DURING THE PANEL YOU DID EARLIER ON "XXX" THAT A LOT OF PEOPLE BROUGHT UP YOUR FATHER...
ASIA ARGENTO: Yeah...
QUINT: DO YOU GET THAT A LOT?
ASIA ARGENTO: In a place like this, yeah. Before I came here I was telling my friends, I was like, "It's all gonna be about my dad." I don't have a problem with that. I'm a fan of my dad. It's always good to talk about his work.
QUINT: WELL, I'M A HUGE HORROR GEEK, SO I'M ALSO A BIG FAN. I ACTUALLY FOUND LUCIO FULCI FIRST, BUT YOUR FATHER'S FILMS ARE MY FAVORITES.
ASIA ARGENTO: Yeah? They're different, though.
QUINT: YEAH. IN YOUR PANEL, PEOPLE KEPT LUMPING THEM TOGETHER, BUT YOUR FATHER STARTED WITH GIALLO FILMS, MORE MYSTERY BASED.
ASIA ARGENTO: Yeah, exactly. Then he did what he says is horror movies, like SUSPIRIA. He thinks that's really horror. I was like, what are you saying? I don't know what he means. I still haven't found the right way to define my father's movies. The right word. Visionary.
QUINT: I THINK THAT'S ONE OF THE GREAT THINGS, THOUGH. I THINK THAT'S WHY HE'S GOING TO LIVE ON. EVEN THOUGH I REALLY LOVE FULCI'S STUFF, HE DIDN'T SHOW MUCH RANGE.
ASIA ARGENTO: You can't compare. It's a drag that my father was supposed to produce Fucli's last movie, then he died. It's really sad. He was gonna do THE WAX MASK.
QUINT: THAT'S A BUMMER... BUT I COULD TALK YOUR FATHER'S FILMS ALL DAY. LET'S TALK ABOUT YOU!
ASIA ARGENTO: (laughs) Me, me, me, me, me! (laughs)
QUINT: SO, YOU GOT "XXX" THIS HUGE STUDIO ACTION PICTURE THAT'S PRETTY CERTAIN TO BECOME A BLOCKBUSTER. IS IT WEIRD FOR YOU TO BE CAUGHT UP IN THIS HUGE STUDIO SUMMER ACTION FLICK?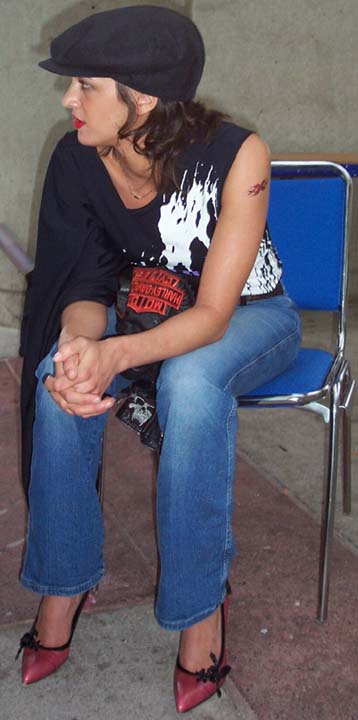 ASIA ARGENTO: No, it's fun. It's different. I'm not freaked out by it. It seems like I'm riding the wave. I think it's fun. It feels like... It's kinda refreshing to do it out here where nobody knows me and they don't have any preconceived ideas about me, so I can be whatever I want. So, I feel free.
QUINT: DO YOU HAVE ANYTHING ELSE IN THE WORKS?
ASIA ARGENTO: I'm taking my time, really. I don't wanna rush it. The things they offered me are not exceptional. I mean, they're big movies, but I'm not interested, so I'm taking my time. The thing I'm most interested in is the movie that I'm going to direct, but I don't think it's right to do it right after this. I think I'll do another movie to establish my work here.
QUINT: SO, YOUR PASSION IS IN DIRECTING?
ASIA ARGENTO: Well, I have many passions.
QUINT: BUT RIGHT NOW, THAT'S WHAT YOU'RE LOOKING FORWARD TO?
ASIA ARGENTO: Acting out here is different. It's more fun for me. If I can do different roles like the one I played, then I'm very happy. I wanna be able to go from one label to the next. Like from being the dark lady to the kick ass chick. That's a prison. Any label is a prison.
QUINT: JUMPING GENRE TO GENRE THEN?
ASIA ARGENTO: From movie to movie. I don't see movies as genres. Movies are movies. Great movies or bad movies. Genre is what you put on it with your job, but my job is to do movies.
QUINT: WHAT'S YOUR FAVORITE DIRTY JOKE?
ASIA ARGENTO: Oh, my God... You know, I was censored by my father on jokes when I was little. He was like, "No jokes! No jokes! Jokes stink! You can't say jokes!" So, that's the good joke, that I can't say a joke because my father forced me not to say any jokes. That's funny. For him, that's a funny joke... and kinda dirty, too.
There you have it. It woulda been longer if that shithead hadn't taken up half my interview time, but it was still fun, right?
Now on to Jonathan Mostow and the 2 or 3 questions I got to ask him one on one about TERMINATOR 3: RISE OF THE MACHINES. Jonathan was looking very tired, but he graciously put up with some of my bullshit questions, God Bless 'im! Here's the interview!
QUINT: T3 IS BEING REALLY SCRUTINIZED BY FANS RIGHT NOW, OBVIOUSLY. NOT ONLY DO YOU HAVE THE PRESSURE OF CONTINUING A SERIES THAT THE MASSES LOVE, BUT YOU'RE ALSO HAVING TO FOLLOW UP JAMES CAMERON. WHAT'S THE ONE THING YOU WANT TO TELL THE FANS TO HELP THEM SET THEIR MINDS AT EASE?
JONATHAN MOSTOW: I care about it. That's the only thing I can really say about it. I care. If you give two filmmakers the same script, they'll make two different movies. There's no way I could go into this saying, "I'm gonna make a Jim Cameron movie." It's impossible because even if I had all his specific talent set, it'd still wind up being a different movie. I'm a different guy than him, so I'm approaching it from the point of view of a fan of the series. I love the character, I love the setup, the McGuffin, everything about it. I want it to be great. I know that the bar is (set) really high on it.
The starting point is to make sure we had a great story and I really think we have a great story. It's very cool. It'll play to sorta the cheap seats in Cleveland and the mass audience around the world and it'll play to the hardcore fan base. That's the reason we came down here today. I'm telling you, we'll sit on the set and spend 20 minutes going, "You know... Is someone gonna notice that little thing in the corner of the frame?" Then we go, "Probably most audiences won't," but we have in our minds this vision of the core fan who'll be really pissed off at us if we don't get it right. It's all those people in the other room over there (ROOM 20 of the San Diego Convention Center).
So, we spend an extra half an hour to bring in the touch-up painter and do some little thing in the background that'll make it just right for those people. And that applies to the story construction, the special effects, the practical effects, the stunts and everything else. At the end of the process there will be people who will go, "I like this more than the other movies." Or, "I didn't like it more than the other movies." It doesn't matter. All that matters is was it faithful to the franchise, the series, and does it continue the story in an entertaining and compelling way. If I do that, then I did my job. I just want to make a movie that I'd want to see if I was just going to the theater to see the third film.
QUINT: WHAT WAS IT ABOUT THE STORY THAT MADE YOU WANT TO PUT YOURSELF IN THIS UNENVIABLE BUG UNDER A MICROSCOPE KIND OF POSITION?
JONATHAN MOSTOW: I can answer it this way, which is... When I started thinking about it... There was this script that I basically wasn't... That had some really great stuff in it, but for myself I have to find something that'll get me sorta psychologically hooked and it was the realization that... I said this up there during the Q&A period, but unlike most sequels that come out a couple years after the preceding movie, there's a dozen years between these two movies, so the characters are in different places in their lives.
Like John Conner was a kid before. He's now a young man and he's carrying around this burden of responsibility of, like, the future of the world may rest on his shoulders and nobody knows about it and if he tried to talk to someone about it, they'd pretty much think he's a nutcase. That's a very, very interesting character. That was the starting point for me. That's what got me interested.
QUINT: WELL, I HOPE I DIDN'T PISS YOU OFF BY BREAKING THE NICK STAHL CASTING NEWS ON THE SITE.
JONATHAN MOSTOW: Really? That's good... You know, the cast in this movie is great. Nick Stahl, Claire Danes is a great actress. The actress playing the female terminator is fabulous and you cap it off Arnold, it's a terrific, terrific cast.
QUINT: SO, HOW DOES THE TERMINATRIX FARE AGAINST ARNOLD?
JONATHAN MOSTOW: You see, every time... Everybody their last question is to try to sneak in something that'll make me reveal something! I can't tell you!
QUINT: WELL, THEN I HAVE TO ASK WHAT YOUR FAVORITE DIRTY JOKE IS.
JONATHAN MOSTOW: Oh, my lord... You know what? My 5 year old told me a joke... OK... Did you see the new Pirate movie? It's rated ARRRRR!
That's it, squirts! I think I got one more Comic Con report for ya', a little wrap up of all the smaller events and panels I saw. 'Til that day, this is Quint bidding you all a fond farewell and adieu!
-Quint
email: God I wish I was that Asshole with Asia Argento!