Hey folks, Harry here... Entertainment Weekly published the 'short-list' for the roles of BATMAN and SUPERMAN for Wolfgang Petersen's SUPERMAN VS BATMAN written by Andrew Kevin Walker. This list was made up of 5 names. Johnny Depp, Colin Farrell, James Franco, Jude Law and Paul Walker. Definitely an interesting list and bit of journalistic excavation on EW's part, but AICN has got ya the really short list... um, actually who got the parts.
According to Nanobot 01 that has been stationed in Lorenzo's office on the Warner Brothers Lot since October 18, 2000... Well, it looks as if they've wrapped up their Clark Kent and Bruce Wayne!
Colin Farrell is BATMAN and Jude Law is SUPERMAN.
Ya know what? That actually doesn't suck in my book. The choices are actually daring in the sense that both actors are actually actors and not STARS. Both actors are invisible in roles. I do think it is rather odd that Colin Farrell is playing Batman instead of Superman given his experiences in phone booths, but maybe he can give Jude Law some pointers about phone booth etiquette.
All joking aside, Colin's got the eyes and the somberness to be BATMAN, his experiences playing BULLSEYE has his physical tricks up to speed and he definitely has the chops to pull off the character. I'm told he is definitely in. FYI... He's 5'11", 26 years old.
Jude Law has already played a man of steel once in A.I., but somehow I doubt the characters will have too much in common beyond that. Imagining the fun he'll have with Clark Kent and the charm he'll wield with Supes... Well, this could really really be something. His deal is still being hammered I'm told, but it is very very close to drying the ink time. FYI... He's 5'11", around 145 lbs, 29 years old. If you look at the original Fleischer SUPERMAN he wasn't the bulked up muscle-builder that SUPERMAN has become today. Why's he need giant muscles? He's Kryptonian, he doesn't need em, he's got a yellow sun powering him instead.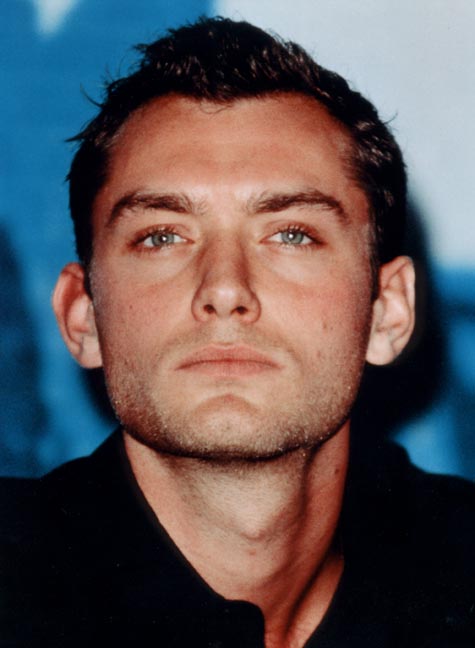 I keep asking Nanobot 01 for a copy of the script, so we can see what it is that Wolfgang and crew are going to be working from, but alas we have yet to have a successful lift. Perhaps more people need to out on the hunt. Hmmmmm, if only Mysterio wasn't such a Marvel prig... Perhaps Houdini could whip it up? Or maybe... you?
Seems like this project is headed in the right direction. Let's hope it doesn't derail.