Hey folks, Harry here... Over a week ago we ran a story from TigerGirl Of The East from the set of KILL BILL. The story told us what had been going on around the set of KILL BILL and gave us some extra names of actors playing characters in Quentin's latest film. Well turns out one of them was wrong. Aki Maeda (from BATTLE ROYALE and GAMARA flicks) will not be playing Go Go Yubari in the House of Blue Leaves scene. Now, when TigerGirl said that name, I instantly told some friends of mine that the bad ass girl from BATTLE ROYALE was going to be Go Go Yubari, then I went and looked her up and discovered that Aki Maeda was the oh so sweet girl that Beat Takeshi had a crush on in the movie. WELLLLLLL.... Turns out ol Quentin was reading the report and sent me a message to correct that casting bit... Turns out that Chiaki Kuriyama (who played Chigusa in BATTLE ROYALE) will be playing Go Go Yubari!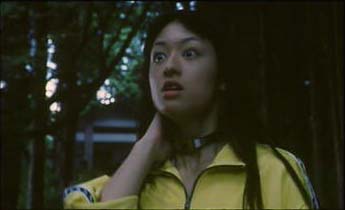 Chiaki was one of the badass girls in BATTLE ROYALE, she's the one that stares down the would be rapist with the crossbow in BATTLE ROYALE.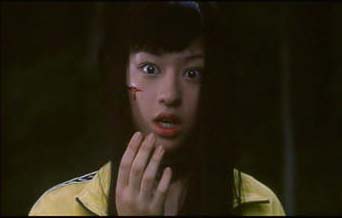 The one that takes an arrow to the face!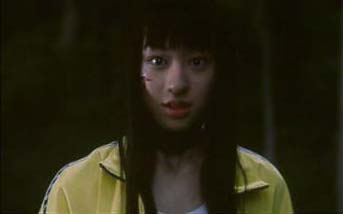 The one that gets really angry about it!
The one that pulls out the switchblade and makes the bastard pay!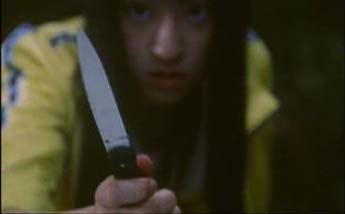 This is very good news as Go Go Yubari is supposed to have a bit of an evil look to her youthful innocence, and Chiaki definitely has that in spades! Meanwhile, The 5,6,7,8's Message Board posted some images from the set of KILL BILL and the House Of Blue Leaves sequence! Including a look at a pair of the CRAZY 88s with their Kato masks on and everything! And that shot of Quentin... Well he looks about as happy as I've ever seen him. Damn that has to be one helluva fun set! Click above for more images - I've included the best pics below...