Straczynski's JEREMIAH!! Talk Back!!
A post-apocalyptic future where everyone alive is under 30? No, they're not bringing back "Logan's Run"; it's the latest series from J.M. Straczynski, creator of "Babylon Five," mon! Twenty episodes air on Showtime at 10:45 p.m. Friday nights – but the 95-minute premiere first airs tonight at 8 p.m.
Debut: Luke Perry goes the taciturn tough-guy route in this futuristic cable series. He plays the title character, a survivor of a supervirus that, 15 years earlier, killed everyone past the age of puberty. Jeremiah roams a blighted countryside rampant with raiding parties, racist wolf packs and armed gangs. In the opener, as he searches for the "Valhalla Sector," a safe zone that his dying father told him about, he meets opportunistic Kurdy (Malcolm-Jamal Warner), who makes off with Jeremiah's freshly caught fish. But when their paths cross again, Kurdy saves him from a brutal gang leader (Kim Hawthorne), and the two mutually suspicious road warriors hit the highway.
An absorbing if disquieting series set in a future that looks a lot like a prehistoric and primitive past … Without government, electricity, phones or currency, the inhabitants fend for themselves, barter for what they need and feed as best they can off the decaying remnants of the former civilization … The two-hour opener and the rest of the 20 episodes follow Jeremiah and Curdy from adventure to adventure as they try to piece together the answers to various mysteries and stay one step ahead of various groups of thugs, arsonists, skinheads and other antisocial types … Reflecting the world in which it occurs, the series can be grim, violent and raw, but rarely dull.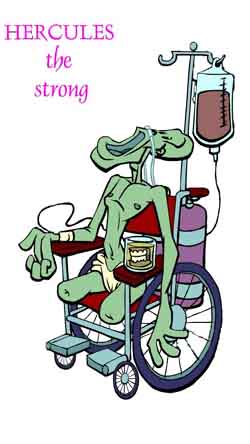 To order boxer shorts adorned with the image of a green, handicapable "Buffy" fanatic, click here.