Buffy 6.15 FAQ
What's it called?
"As You Were."
Who's responsible?
"Written and directed by Doug Petrie." (Petrie's last effort as writer-director was "Flooded.")
"Consumed by professional and personal disappointment, Buffy is jolted from ennui by the reappearance of her old beau Riley (Marc Blucas), who needs her Slayer skills to track down a demon called the Doctor. He also has some startling news to share about his private life. Meanwhile, Anya and Xander struggle to finalize their wedding arrangements. Sam: Ivana Milicevic. Todd: Ryan Raddatz."
What is TV Guide not telling us?
As revealed on the Net way back around New Year's, Riley's happily married to a swell government co-worker named Samantha.
The big news?
Sam is such a cool character you'll be sorry to see her move on.
The less-big news?
Buffy burns her Doublemeat bridges this week.
The big surprise?
Rejected is Buffy's application for readmittance to UCSunnydale (referred to in the rejection letter, oddly enough, as UCSD)!
When does Riley turn up?
End of act one. He's been up 48 hours and he sports the dashing facial injury.
And Sam?
End of act two.
She looks like a supermodel in kevlar, doesn't she?
She does.
The Nerds of Doom sit it out again?
They do.
Any sign of Fantastico?
Nope.
Any Buffy-Spike sex?
Is there? On the front lawn! In the crypt!
Anyone learn of the Buffy-Spike sex?
Riley stumbles upon them nakedly together. And then quickly follows with the brutal Spike-pummeling!
What's the what with Will and Tara?
Tara is off this week, but Will is super-excited to be back on speaking terms with her lost love.
Does Will go back on the pipe?
She is asked to do a spell this week.
What's the what with Xander and Anya?
Knee-deep in wedding prep. (The nuptual episode is next.) Much comfort food is consumed.
What's great?
So many things. Vampire mockery of the slayer. Buffy's garbagy pleas. "I'm gonna win." Will's hilarious parting appraisal of Sam.
What's not so great?
Nothin'. This one's got it all: the laughs, the sad, the solid character development, the meaty continuity, the loads of momentum. One doesn't even miss the Nerds or Tara or Fantastico!
How does it end, spoiler-boy?
With the miracle that is inviso-text! Buffy does the big break-up with Spike, and this time she seems to mean it.
Herc's rating for "Buffy the Vampire Slayer" 6.15?
****
The Hercules T. Strong Rating System:
***** better than we deserve
**** better than most motion pictures
*** actually worth your valuable time
** as horrible as most stuff on TV
* makes you quietly pray for bulletins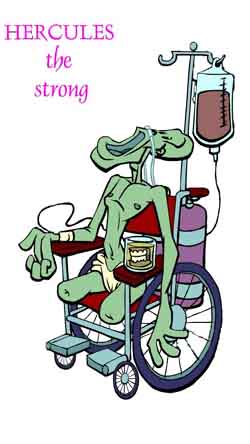 To order boxer shorts adorned with the image of a green, handicapable "Buffy" fanatic, click here.