Tickets for the Museum of Television's William S. Paley Festival went on sale to museum members Saturday morning.
The Museum of What? The William S. Who? Okay. Say you love "Futurama." Say you got a chance to see the best two episodes of "Futurama" ever (with an audience as enthused about the show as you are), and then got to see and hear the show's writers and actors spend an hour or two answering questions about it afterwards. This is what the Paley Fest is. It's one of the funnest things ever. Even the salutes to the cruddy shows are great entertainment. (I first laid eyes on my great friend Harry Knowles at this event a couple of years ago, and Knowlesy claims to disdain all things televised.) Here's this year's Paley lineup:

Feb. 26 An Evening with Cristina Saralegui
Feb. 27 An Evening with Martin Short
Feb. 28 Futurama
March 1 The Bernie Mac Show
March 1 The Daily Show
March 2 Queer as Folk
March 4 Undeclared
March 5 Curb Your Enthusiasm
March 6 A Salute to Fred Allen
March 7 St. Elsewhere
March 8 Scrubs
March 9 Six Feet Under
March 11 Alias
March 12 King of Queens

All events are held at the Directors Guild of American Theatre in Los Angeles. I'm told that as of 7 p.m. Saturday none of the events were sold out. (But this could change by the time tickets go on sale to non-members next week.) Here's some Coax recaps of the "Survivor" and "Angel" events from last year's Paley festival. More details of this year's William S. Paley Television Festival can be found here.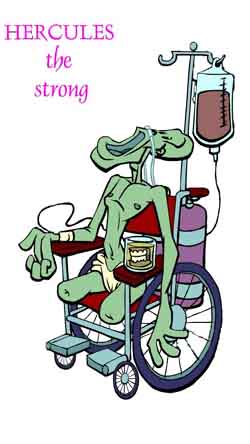 To order boxer shorts adorned with the image of a green, handicapable "Buffy" fanatic, click here.