X-FILES 9.1 FAQ
What's it called?
"Nothing Important Happened Today."
Who's responsible?
Teleplay is credited to Chris Carter and Frank Spotnitz.
"The ninth-season opener continues to probe the mystery of Scully's baby, William. Integral to the storyline may be guest star Lucy Lawless (Xena: Warrior Princess), who makes a provocative entrance in the two-part episode as a woman involved in the death of an EPA official. The premiere also introduces Cary Elwes as FBI A.D. Brad Follmer, an old flame of Reyes who advises her to abandon Doggett and his investigation of Deputy Director Kersh (James Pickens Jr.). And Follmer isn't the only one questioning the case, as Doggett learns he's missing not only key evidence but also key allies."
How long has it been since Mulder kissed Scully?
A matter of hours.
How long till Lucy Lawless shows up?
She appears about 30 seconds after the fade in.
Why is her entrance provocative?
She's wearing a skimpy black number. She takes a drive with an EPA official she just met. She begins rubbing his thigh, then rams his leg down on the accelerator. Watery death ensues.
Is she suicidal?
No. It appears that Lawless' character (let's call her Aquagirl) either can breathe underwater or is very good at holding her breath.
Lawless still using that American accent?
She is.
Any other intimations of nakedness?
Lucy Lawless' body double wanders around naked a great deal. And we get a lingering gander at Agent Reyes' topless torso early in the first act.
Now that Duchovney's off the show, is the "falling Mulder" still in the title credits?
No. The title credits, in fact, have received likely the biggest makeover of the series history. The music seems to have been redone. There are updated photos in the FBI idenification cards. And the sequence ends with a spooky 11-year-old standing alone in a field (representative perhaps of Scully's baby in a few years?).
Hmm. Any new signs that Scully's baby might be some kind of alien clone?
Scully notices that the mobile above the baby's crib spins in a slightly mysterious manner. Is the baby telekinetic? Are outside forces making it rotate?
Who's in the title sequence these days?
Gillian Anderson. Robert Patrick. Annabeth Gish. Mitch Pileggi.
Any other changes?
The "previously on" recap has been moved to after the teaser and title credits.
The big news?
Duchovny's off the show, but Mulder isn't exactly. His offscreen presence is being kept very prominent, one imagines, in anticipation of the recently announced movie that will reunite Mulder and Scully.
Offscreen presence?
There's a figure showering in Scully's apartment. If it's not Mulder, Scully got some 'splainin to do. Later, when Doggett learns that all evidence of last season's parking garage melee has disappeared, Doggett heads to Mulder's place to find it empty and abandoned. When he goes to Scully, she only says that Mulder's "gone. He's just gone."
Besides Mulder, what other key allies is Doggett missing?
Skinner, who urges him to drop the case. Skinner fears for the safety of Mulder, Scully and baby if Doggett doesn't halt his investigation of Kersh.
Does Scully know where Mulder is?
She likely has an inkling. When Doggett points out that it makes no sense that Mulder would leave Scully and the baby unprotected, she replies, "It makes sense in its own way. It's all I can tell you." When Doggett asks why Scully no longer trusts him, Scully points out that forces that tried to kill Doggett, Skinner and Mulder last season are still out there, "they are unstoppable, and they are inside the FBI." Scully remains otherwise tightlipped.
Do the Exposition Boys, er, the Lone Gunmen turn up?
They do, as a favor to Doggett. They seem to have fallen on hard times! Langley is especially blue. They turn up some info on the EPA guy.
Are they in the company of Jimmy and/or Yves?
Of course not.
What's good?
There's plenty of twisty plot to keep us interested. And happily, the skeptic role Scully used to fill has for once been eliminated. All four of the leads seem to need no convincing that very strange things continue to be afoot.
What's not so good?
The characters on the "X-Files" remain some of the blandest on television. Perhaps if they weren't always so purely reactive…
How does it end?
With a cliffhanger. Doggett has an unexpected encounter with Aquagirl.
Herc's rating for "The X-Files" 9.1
***
The Hercules T. Strong Rating System:
***** better than we deserve
**** better than most motion pictures
*** actually worth your valuable time
** as horrible as most stuff on TV
* makes you quietly pray for bulletins
I warn you not to defy me!! Mmm!! Cookies!!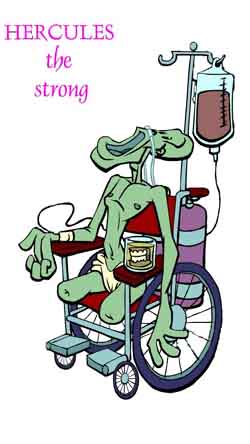 To order coffee mugs and boxer shorts adorned with the image of a green, handicapable "Buffy" fanatic, click here.