24 1.1 FAQ
What's it called?
"12 Midnight-1:00 AM"
Who's responsible?
Teleplay is credited to Robert Cochrane ("L.A. Law," "La Femme Nikita") and Joel Surnow ("Wiseguy," "Special Unit 2").
What does TV Guide say?
"Debut: Kiefer Sutherland stars as Jack Bauer, the L.A.-based head of a Federal counterterrorism unit, in a seasonlong chronicle of a day in his life - with each hour a separate episode. The story opens at midnight with Bauer at home with his wife, Teri (Leslie Hope), and teenage daughter, Kimberly (Elisha Cuthbert), who promptly sneaks out of the house. Just as they learn she's gone, Jack is summoned to work, where he's informed of an assassination plot against a Presidential candidate (Dennis Haysbert). Further, an element inside his own agency may be involved. 'Don't trust anybody,' says Bauer's superior, 'not even your own people.'"
What is TV Guide not telling us?
This show is all about misdirection, "Sixth Sense" style. Watch as closely as you like; this show is so precisely built, you will be fooled again and again. Stupid humans!
Is it, as the cover of TV Guide declares, the best new show of the year?
It is.
Better than "Alias"?
Just barely.
We all know about the show's bizarre real-time concept. Is the screen always split into quarters as it was in "TimeCode"?
No. The show does employ a lot of cool split-screens, but they're used judiciously.
But surely this is too gimmicky to be any good, am I right?
The gimmick is wacky; the show amazes.
Who do we follow?
In the pilot, we keep tabs on the candidate, the counterterrorism guy, his wife, his daughter, and a photographer aboard an airliner. These may seem like odd choices at first, but all soon becomes clear.
Why is this show so great?
Loads of edgy, complex, compelling characters. Intricate, unpredictable plotting. Lightning-like pacing. A stellar cast. A near-constant, electric undercurrent of sex. It keeps asking questions you'll be dying to see answered. And, perhaps best of all, it feels like no TV show you've ever seen.
Lightning-like pacing?
You will not believe how fast this hour flies by.
Stellar cast?
Every actor in this show is money in the bank. Keifer Sutherland, Dennis Haysbert, Leslie Hope, Elisha Cuthbert, Sarah Lively, Mia Kirshner, Penny Johnson: all great actors way on top of their game.
Why isn't Herc spoiling plot points?
Because you don't want me to.
Herc's rating for "24" 1.1?
*****
The Hercules T. Strong Rating System:
***** better than we deserve
**** better than most motion pictures
*** actually worth your valuable time
** as horrible as most stuff on TV
* makes you quietly pray for bulletins
9 p.m. Tuesday. Fox.
I warn you not to defy me!! Mmm!! Cookies!!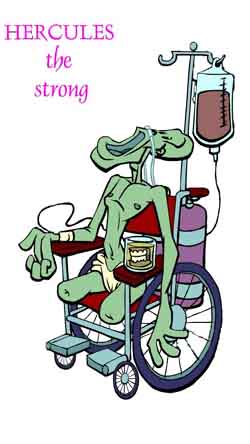 To order coffee mugs and boxer shorts adorned with the image of a green, handicapable "Buffy" fanatic, click here.